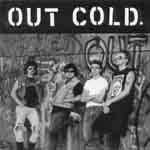 Another favorite of mine that has been in the current playlist is the debut album of Massachusetts Out Cold. Still considered one of the best kept secrets in American hardcore, this band has been staying true to their hardcore roots for 20 years now. This band truly embodies to me what is considered pissed off hardcore, and even though I like many of the newer bands coming out doing this style, I think Out Cold always have and always will do it best. I love this band! Part of the reason I moved back from California to Indiana was to start a band of this style with dudes in Daisycutter.
This album is prior to Mark Sheehan making the permanent switch from bass to vox, instead featuring Kevin Mertens on the mic. Although I think Mark tears it up with more effectiveness, Mertens does provide an ample amount of piss and vinegar on this outing:
AIDS, Toxic Shock, PMS, and more
Pick this up from
ACME
records if you don't own it already, and/or go to
Out Cold's official site
and grab it!